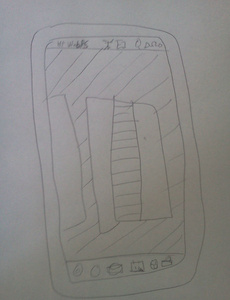 Ten days ago,
HP
puts its TouchPad tablet in firesale at $99, sending sales into a frenzy.
Earlier that week, HP announced they would not create any more webOS-based tablets and smartphones, and would begin liquidating their
Pre
phones and TouchPad tablet.
The firesale price was significant as a teardown of the tablet revealed the parts cost over $250 not including R&D and shipping. It also meant HP is taking a significant hit on each device sold, as they will likely subsidize retailers liquidating.
This week, it appears the TouchPad craze has reached a likely top, as hand drawn drawings of the TouchPad are now up for sale on eBay.
Reads one auction (currently going for $0.49):
This is an original drawing of an HP Touchpad.

Sold out in stores, this item is in high demand.

More customizable than the iPad, this drawing of an HP Touchpad can display any picture or game you want - simply cut a hole for the screen and place it over your REAL TOUCHPAD (not included).

This drawing is of a 64GB HP Touchpad WITH USB Charger and Wall Adapter.
Most are completely for charity (which is great), some are not. View them all here:
HP TouchPad drawings on eBay