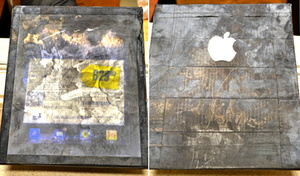 22-year-old Ashley McDowell of South Carolina was duped out of $180 after two men approached her in a McDonald's parking lot and offered to sell her an iPad.
One of the men, who had a gold tooth, says McDowell, explained that they purchased the tablets in bulk from overseas and were selling for $300. The woman said she only had $180 on her and they quickly accepted her price.
When McDowell got home, she opened the box (a Fedex box, not even an iPad box, mind you) to find a piece of wood with the
Apple
logo painted on it as well as a "screen" with a replica iPad home screen.
Adding insult to injury,
the scammers threw
a fake Best Buy sales ticket on top.
Despite dusting the box and "tablet" for prints, the police say they have no leads.