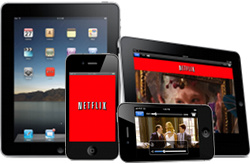 According to researchers at Parks Associates, consumers are not only showing a preference for on demand streaming video over other alternatives, but also paying close to $50 per subscriber to access premium services.
That trend isn't likely to reverse itself any time soon, considering the growing tablet market and demand for increased access to content across platforms and at any location.
Estimates from the NPD Group's Connected Intelligence division suggest demand for access via Wi-Fi hotspot or even across mobile data networks, could equal demand for access in the home.
The broad appeal of subscription services is coming, in part, at the expense of a la carte rental and purchase services. Apple recently
got rid of
their $0.99 TV show rentals.
DVD and Blu-ray sales and rentals have been stagnant for some time, with Blu-ray adopters generally failing to make up for lower DVD revenue. At the same time, consumer willingness to drop pay TV subscriptions in favor of internet options is on the increase.
The logical move at this point would be to concentrate on helping online services profit in the new marketplace to make the transition profitable for everyone.
The same consumers studios are counting on to ensure disc formats remain viable are getting online video clients built in to their HDTVs and Blu-ray players, to say nothing of the video capabilities and additional options available for modern game consoles and tablets.
Tricia Parks, Parks Associates CEO, addressed the trend:
This shift will create havoc with today's well-understood TV revenue model potential. All players want a piece of that revenue, but not all players will hold their current positions over time.
But studios continue to focus alternately on handicapping streaming services and demanding payments from them based not on actual revenue, but rather the perceived cost of consumers abandoning legacy platforms. What they should be thinking about is the revenue gained when online viewers choose pay services rather than illegal (and unprofitable) alternatives.
Internet video options don't directly match up to legacy products and services. They are completely different markets, each with its own inherent limitations and advantages.
Online video can not be assumed to work like disc rentals, nor is it analagous to subscription TV. Certainly it's not comparable to disc sales.
Likewise, limiting oniline video doesn't necessarily make it less competitive against TV or disc rentals. It does make profiting from that competition much more difficult.