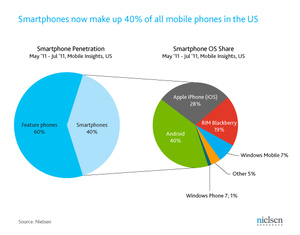 According to Nielsen's latest data, Android has moved to 40 percent smartphone OS market share in the U.S.
The numbers,
for the three month period ended July
, saw Android and
iOS
gain at the expense of Windows Mobile and BlackBerry.
Android is now at 40 percent, iOS is at 28 percent, and RIM BlackBerry is at 19 percent.
Rounding out the rest are Windows Mobile, Bada, Symbian and Windows Phone 7, accounting for 13 percent.
Finally, smartphones have now moved to 40 percent share, with the figure expected to jump over 50 percent by the Q2 2012.