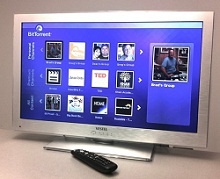 Vestel and BitTorrent Inc. showcase the world's first BitTorrent Certified Digital TV at the IFA show in Berlin.
The new prototype TV enables consumers to find, play and share all types of personal media, independently produced content and internet files directly on their TV.

By becoming BitTorrent Certified, consumer electronics makers can leverage the speed of the BitTorrent protocol and key downloading, transcoding, sharing and file-shifting features to make it easy for their customers to find, get and play all files on any certified devices.

The certification ensures consumers that any content will play back. The BitTorrent ecosystem is an integrated solution of software, devices and content, all orchestrated to move 100+ million PC users into the living room via certified TVs, Blue-ray/DVD players, media extenders, NAS devices and more.

"Consumers want all types of personal media and Internet content in their living rooms and the TV remains the most desired device for consuming this digital media, regardless of source," said Hakan Kutlu, deputy general manager responsible for marketing at Vestel.

"BitTorrent certification helps our TV line meet this consumer demand and ensures that Vestel products remain at the forefront of technology innovation and adoption."