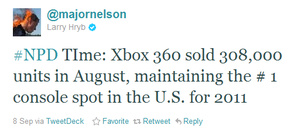 According to the latest NPD figures.
Microsoft's "Major Nelson" has reported today that the "Xbox 360 sold 308,000 units in August, maintaining the # 1 console spot in the U.S. for 2011."
The company has now led the U.S. in 14 of the last 15 months, as the PS3 remains strong and the
Wii
tapers off.
Sony's PS3 is rumored to have sold over 200,000 units on the month, thanks to their $50 price cut.