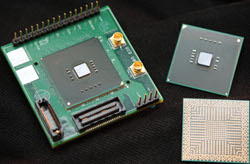 Intel
CTO Justin Rattner demonstrated an experimental ultra low power processor which is so efficient it can be powered by a solar cell the size of a postage stamp under a light workload.
The CPU, which they are calling a Near-Threshold Voltage Processor, consumes less power by drastically reducing the voltages used to represent a 0 or 1. The name refers to the threshold at which a transistor begins conducting current.
The voltage representing a 1 on the chip is extremely close to that threshold.
Intel
's core business revolves primarily around chips built for speed, rather than energy efficiency. But like all processor vendors they are having to adapt to a new world where smartphones, tablet computers and other mobile devices will be the dominant hardware for every day computing.
Nowhere is this more apparent than their recent
work with Google
to ensure Android will support
Intel
processors.
The Near-Threshold Voltage Processor is purely a research unit, but they hope the technology could eventually help them reduce power consumption by 80% in future products. In the long term their goal is a reduction to as low as 0.001% of current levels.