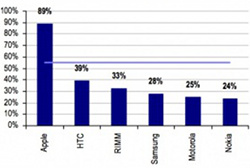 Apple has the highest customer retention rate of all handset manufacturers by a wide margin according to a new report.
Although down from last year's figure of 95 percent, Apple's retention rate of 89 percent is far better than second place HTC's 39 percent. Half of those who are considering a switch from the iPhone are actually undecided, meaning their retention rate could be as high as 93 percent.
The numbers
, which come from a survey conducted by UBS Research, show an even more important trend from Apple's point of view. More than 30 percent of Android users indicated their next phone would likely be an iPhone.
According to the survey results, Samsung's retention rate is unchanged from last year. Not surprisingly, RIM and Nokia are the big losers.
At 33 percent, RIM's customer retention rate is just over half what it was last year. Although interestingly that still leaves them ahead of Samsung. Of course, many Blackberry sales are for use on corporate networks running Blackberry server software.
Nokia's retention rate fell from 42 percent a year ago to 24 percent this year. No doubt this is partly due to Nokia's decision to abandon their Symbian OS.
Nokia has had something of an identity crisis in the last several months, developing both Symbian
and MeeGo phones
, eventually ending up with a
focus on the Windows Phone platform
. Nokia Windows Phones are expected to hit
Europe next month
.
While not surprising, it certainly makes their plan to focus on Symbian customers to sell Windows Phones seem questionable. That strategy was
outlined last month
by Nokia CEO Stephen Elop.
The obvious question raised by this report is one many people have been asking for a while. Why, exactly does Apple fear Android so much that they're trying to push it out of the market?
The iPhone is already the single most successful smartphone on the market. There's every reason to believe that will continue with the next generation, expected to be
announced early next month
.
They also, apparently, are keeping almost all their customers and adding Android users.
If a large percentage of Android sales lead to a later iPhone purchase, doesn't that increase the market while also strengthening their position?