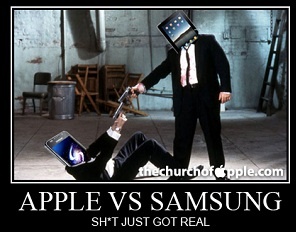 According to a
Samsung
representative,
Samsung
's decision to enter into a patent licensing
deal with Microsoft
was intended to protect them from Apple.
The deal, announced yesterday, gives
Microsoft
and
Samsung
each access to the other's patents. It was accompanied by a commitment from
Samsung
to continue producing Windows Phone handsets.
An unnamed source within
Samsung
explained
the company's concerns
to the Korea Times, saying,
"Samsung knows it can't rely on Google. We've decided to address Android IP issues on our own."
Google
has made a push recently to increase their patent pool in an effort to defend Android from patent claims, including a recent agreement to purchase
Motorola
's phone division for $12.5 billion. But that hasn't stemmed the tide of patent infringement lawsuits, particularly from Apple.
Samsung
's deal with
Microsoft
, as well as a new
initiative to develop
a separate Linux-based mobile OS with Intel, seem to indicate how fragile the relationship between
Google
and handset makers might be.
Since losing a bid to buy
Nortel
patents
to a consortium
which includes Apple,
Microsoft
, and Sony,
Google
has been criticized for not supporting the Android ecosystem. Their decision to buy
Motorola Mobility
, putting them in direct competition with their partners, likely hasn't helped.
As one of the biggest electronic components providers in the world,
Samsung
's interests don't line up particularly well with
Google
's either. Defending themselves against patent lawsuits isn't the only cost to
Samsung
in their battle with Apple.
At the start of their worldwide patent war, earlier this year,
Samsung
was a major supplier of components for Apple devices. The legal fight has put a strain on relationships between the two companies.