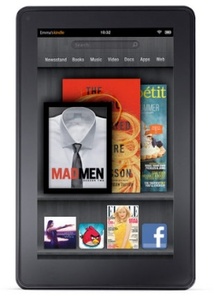 If figures reportedly leaked from
Amazon
are accurate,
Amazon
has already received pre-orders for at least 250,000 Kindle Fire tablets. Previously another source reported
Amazon
sold 95,000
on the first day alone.
The Kindle Fire is a 7" Android tablet announced
at a press event
last week, along with the latest
Amazon
Kindle e-readers. It is based on
the same design
as RIM's PlayBook.
Cult of Android claims to have gotten their hands on
actual sales figures
from
Amazon
showing 250,000 Kindle Fire tablets have already been pre-ordered. That seems like an impressive statement on the
Amazon
brand if you consider it won't even begin shipping until November 15.
Before we leap to the conclusion that the Kindle Fire is the iPad killer Android fans have been waiting for, it's worth stepping back to take a look at some alternate explanations.
The big question is whether Kindle Fire buyers actually think of it as a tablet. It does, after all, carry the Kindle brand. To many people that means it is primarily an e-reader.
And while it does run Android,
Amazon
has clearly designed it to be an
Amazon
web services client first and foremost. This approach makes it more
Amazon
than Android.
They have even gone so far as to replace the standard Android Market app with a client for their own app store.
When people think of the iPad, one of the first things that comes to mind is streaming video. At just 7", the Kindle Fire's display isn't particularly well suited for that application.
It is too early to make any predictions about how well the Kindle Fire will ultimately sell or who will buy it and for what purpose. Until we have more facts, the surest conclusion seems to be that the Kindle Fire will be highly competitive in the e-reader market.