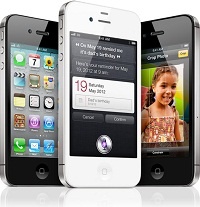 As of today,
the iPhone 4S
is available for pre-order US carriers
AT&T
,
Verizon
,
and Sprint
. If you prefer, you can also buy directly from
Apple
.
Pre-orders will be delivered on October 14, the same day as the official US launch. Prices start at $199 for the 16GB model. For $100 more you can get a 32GB version, and the new top of the line model with 64GB of storage costs $399.
Of course, the release of a new iPhone normally means discounted prices for the previous model are on the horizon. Currently
AT&T
and
Verizon
are both selling the 8GB iPhone 4 for $99, the 16GB model for $149, and the 32GB model for $199.
Those prices will likely
drop some time
after the iPhone 4S is actually available.
AT&T
is currently giving away the iPhone 3GS with a 2 year contract.
In fact, while
Apple
has been criticized for failing to add a low end phone to their lineup, market research from earlier this year suggests the previous year's model fills that niche already. At that time, sales of the iPhone 3GS in the US were second only to the iPhone 4.
The iPhone 4S is based on the same basic design as the iPhone 4, but with a new dual core processor replacing the single core version in last year's model.
Storage options have also been changed. The low end model now has 16GB of storage, compared to 8GB previously, and a 64GB option has been added. The rear camera has also gotten an upgrade.
In addition, at least one feature in the latest iOS, the Siri voice assistant, is designed to only work on the iPhone 4S. However, that may be something a jailbreaker could enable for the iPhone 4 at some point in the future.
Until the new phones get into circulation we won't know if Siri support requires special hardware only available in the new model.