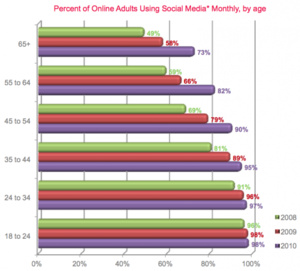 According to
Experian Simmons
, about 129 million people of the U.S. population uses social media.
That figure amounts to 41 percent of the entire population of the nation.
98 percent of online users, aged 18-24, use social media, an astounding number, while 97 percent of adults aged 24-34 use the platforms. Even the older generation, 65 and older, have 73 percent of people using social media.
It is unclear exactly how these figures are calculated but Experian "claims it uses leading technologies to format, cleanse and load data that is acquired directly from government sources and industry leading vendors," says
TNW
.
A few other notable statistics include the fact that 46 percent of online adults use social media to communicated with friends, up from just 32 percent in 2009 and 30 percent of Hispanic consumers saying they use social media to follow companies and music artists, compared to 18 percent for non-Hispanic population.