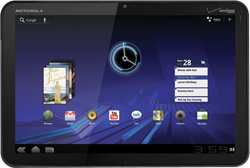 Motorola Mobility
and
Verizon
will be holding a press event next week in New York City where they may be unveiling 4 new products.
A new video on
Motorola
's official YouTube channel includes a comment promising
"Four reasons to get excited."
The video is ambiguous about nearly everything but the date of the presentation scheduled for October 18.
One of the images in the video, a razor blade, seems to hint at one of the devices to be officially announced. Pictures
of the Droid RAZR
, also rumored to be called the Droid HD or Droid Spyder leaked last month.
A primary focus of the event could be
Motorola
's upcoming tablet, the Xoom 2. Like the Droid RAZR, pictures of a tablet believed to be the Xoom 2
have appeared
on the web recently.
The Xoom 2 is believed to be 9mm thick, compared to almost 13mm for the original version. That would explain the video's allusion to something thinner.
Originally
Google
and
Samsung
were set to make a presentation of their own this week to show off the new Nexus Prime and Android 4.0 (Ice Cream Sandwich). They
cancelled the event
last week, apparently in reaction to
Steve Jobs' death
.