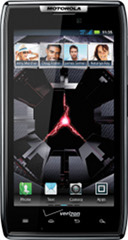 Motorola Mobility
and
Verizon Wireless
have officially unveiled the DROID RAZR Android smartphone. It will be go on sale to
Verizon
customers next month for $299.99 with a 2 year contract.
It will run Android 2.3.5 (Gingerbread) and have a 1.2GHz processor, 1GB RAM, 16GB of internal storage, and a 4.3 inch Gorilla Glass display. In addition, it has an 8 megapixel rear camera with 1080p video recording capability and a front facing camera for video chat.
The two companies are emphasizing the phone's thin profile - just 7.1mm, Kevlar body, and water resistant coating.
"DROID RAZR by Motorola is a testament to the innovation and design possibilities that stem from a strong partnership between Motorola Mobility and Verizon Wireless,"
said Sanjay Jha, Chairman and CEO, Motorola Mobility.
"We set out to design the best smartphone on the planet and delivered DROID RAZR which is thinner, smarter, stronger than any device on the market."
A more interesting aspect of the DROID RAZR is an array of accessories which will be available for it, including a number of different docks and a wireless keyboard and trackpad.
The docks include 2 different laptop-style units, one with a 14" screen and another with a 10" screen. There will also be docks designed for connecting the phone to external displays (including HDTVs) and speakers, as well as a vehicle navigation dock for mounting it in a car.