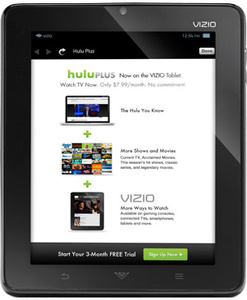 Vizio
has noted today that they are bundling 90 free days of Hulu Plus to anyone who purchases the Vizio 8 tablet.
If you have already purchased the tablet, update the application and the 3-month freebie will be installed.
The tablet runs on
Android 2.3 Gingerbread
, weighs 1.2 pounds, has an 8-inch screen with 1024x768
resolution
, Wi-Fi only, 1GHz processor, 4GB storage,
MicroSD
slot,
HDMI
slot, three speakers and a front-facing video camera for video chat.
Vizio's main selling point on the tablet outside of the price is its integration with VIA, which will control not only all Vizio devices in the house but also "up to 95 percent of all home theater accessories, including televisions and sound systems" with its IR controller.
The tablet retails for $299 but is cheaper on Wal-Mart and Amazon.