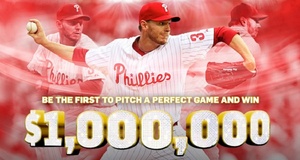 Music teacher Brian Kingrey has won $1 million for throwing a perfect game in MLB 2K11.
2K sports offered the prize to the first person to throw a perfect game after the game's April launch.
The teacher says he knew nothing about baseball, and even had to go to Google to learn the basics of the game.
After researching for two weeks, Kingrey decided to use ace pitcher Roy Halladay against the leagues worst team, the Houston Astros.
Halladay finished the season 19-6 with a 2.35 ERA and 208 strikeouts. The Astros, on the other hand, finished the season 56-106.
Says the teacher:
My best match-up was going to be the Phillies with their star pitcher, Roy Halladay, against the Houston Astros. I'd research, play for five hours, eat, sleep, repeat for two weeks.
There are issues with embedding, but you can view the video here:
Brian Kingrey: Perfection