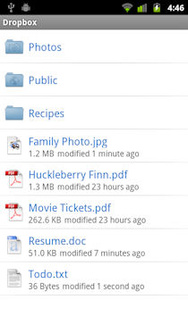 Taiwanese company announces deal with popular cloud storage provider.
Dropbox
is a cloud storage service, founded in 2007, that lets you bring your files (documents, photos, videos etc.) everywhere with you. It has a free option that provides 2GB of storage space (can be extended by recruiting others).
The service has more than 45 million registered users to date, with over 1 million files being saved every five minutes. Pro Dropbox accounts provide storage space up to 100GB. Saving files into a Dropbox folder means they will be synched / available across all devices you have Dropbox software installed on.
HTC
has confirmed that it is partnering with Dropbox to pre-install the Dropbox app on all new Android phones. The devices
will receive 5GB worth of cloud storage
at no extra cost.
HTC didn't provide details about the deal with Dropbox, nor did it suggest whether the extra free storage space would be available to existing users of its Android smartphones.