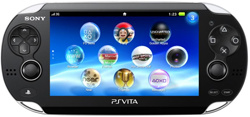 Sony has
"learned its lessons."
After having to put up with product shortages in the past, it would be no surprise if the launch of Sony's
PlayStation Vita
handheld console has marred by the same troubles. However, having learned the lessons of the past, Sony has taken steps to ensure that won't happen.
"We've increased production materially since E3,"
John Koller
, Sony hardware marketing directory, told
AllThingsD
.
"We learned our lesson to make sure you have enough product."
When asked about the level of concern at Sony about increasing competition from smartphones and tablets, as well as Nintendo's continued push of the 3DS handheld, Koller aid they
aren't expecting it to be much of a problem
.
?This is a larger game experience. We think we are insulated from the competition,"
Koller said.
"We love mobile games. Mobile and tablets games are additive."
The PlayStation Vita will launch in Japan in December, followed by the U.S. and other areas on February 22, 2012.