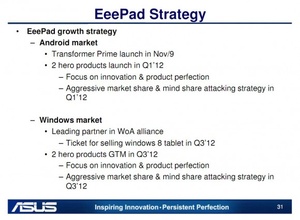 Asus
has confirmed the launch date for their upcoming quad-core tablet, the Transformer Prime.
The device will launch on November 9th and will be the first tablet to be powered by a Tegra 3 quad-core processor.
Additionally, the tablet will
supposedly
also come with Ice Cream Sandwich (
Android
4.0) which would put the tablet light years ahead of other current devices.
Furthermore, Asus is looking to "
focus
on innovation and product perfection" with two upcoming tablets in the Q1 2012.
Asus will also unveil Windows 8 tablets in the Q3 2012.