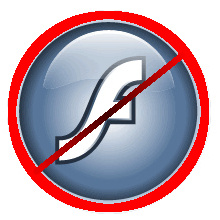 Yesterday
Adobe
announced they are giving up on Flash as a mobile platform and concentrating their efforts on HTML5 and Javascript alternatives.
The announcement came during a meeting with industry analysts as part of a presentation about a company wide change in product strategy.
Beginning with the launch of the original iPhone,
Adobe
has tried unsuccessfully to find a place for Flash in the mobile device space. Resistance from
Apple
, detailed in numerous statements
from Steve Jobs
, kept Flash from the iPhone.
When a full version of the platform was finally released for Android last year the performance problems experienced by many users seemed to confirm Jobs' assessment of Flash as unsuitable for low powered mobile devices.
At the same time, HTML5 has been embraced across the full range of mobile operating systems, making it the obvious choice for a cross platform development solution. It was only a matter of time before
Adobe
would be forced to give up on mobile Flash.
Adobe
signalled their new direction last month when they acquired a mobile development company called
Nitobi
whose apps tie together web standards like HTML5, Javascript, and Ajax with SDKs for various mobile platforms using an app framework called PhoneGap.
Under
Adobe
's ownership,
Nitobi
has submitted PhoneGap to the Apache Software Foundation where it will continue to be developed as Apache Callback.
Adobe
CTO Kevin Lynch explained the company's new strategy, saying:
We believe that HTML5 is a significant catalyst for growth for Adobe. And it's a multi-year vector of innovation for most of our products. HTML5 is great for Adobe and great for the industry.

The key phrase I just used, and I people to make sure we all recognize this, is that most of our products - absolutely HTML5 is going to result in the substrate of the web undergoing a major overhaul - but it's much bigger than just web pages. It's the foundation of how content is going to be delivered in the years ahead.

Web, video, publishing, gaming are all going to increasingly rely on HTML5 across PCs, phones, TVs, and tablets. That is the foundation that we're building toward and that's the foundation we're going to take a leadership position in.
Changes in their mobile strategy weren't the only part of yesterday's announcement. In fact the big announcement, and a much riskier move, is a plan to phase out traditional software sales in favor of licensing through
their Creative Cloud
service.
The Creative Cloud was announced last month, along with an initial offering of stripped down mobile versions of various legacy
Adobe
products.
Once you get past all the buzzwords like Cloud, Collaboration, and Sync, the bottom line comes down to saving money on sales and support, increasing the cost of ownership, and reducing piracy. Those are a shaky foundation to build a business around.
While
Adobe
won't be dropping the traditional software you pay for once and own forever right away, they plan to make it more expensive for many customers by eliminating some upgrade options. Upgrades for Creative Suite products, which include Photoshop, Premier Pro, and Dreamweaver will now only be available 1 version back.
Their preferred product, Creative Cloud subscriptions, will cost even more with options for $49 or $69 per month. And some products will only be available through Creative Cloud.
Ultimately they plan to charge customers more for renting software than they currently pay to buy it. And eventually they intend to phase out purchases completely.
If you use Creative Suite products and upgrade every year, you will end up paying more under their new rental model. If you don't upgrade every year it will be a lot more whether you buy or rent.