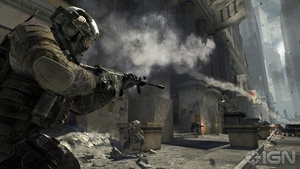 Activision has announced this weekend that Modern
Warfare
3 sold 6.5 million copies in its first 24 hours of availability.
Making that massive number even more impressive is the fact that the game is only available in North America and the UK right now.
Rival EA announced last week that their shooter
Battlefield 3
had sold 5 million in its first week, a blockbuster by any normal standard.
Says Activision CEO Bobby Kotick (via
Ars)
:
We believe the launch of Call of Duty: Modern Warfare 3 is the biggest entertainment launch of all time in any medium, and we achieved this record with sales from only two territories. Other than Call of Duty, there has never been another entertainment franchise that has set opening day records three years in a row. Life-to-date sales for the Call of Duty franchise exceed worldwide theatrical box office for Star Wars and Lord of the Rings, two of the most successful entertainment franchises of all time.
The company is expected to have brought in $405 million revenue in the first day, due to the game's $60 price tag and strong sales of more expensive versions that could be as expensive as $150.