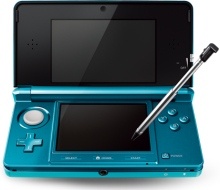 Nintendo
has noted this weekend that the
3DS
handheld is on pace to have stronger sales than the original
DS
had in its first year.
The old handheld had 2.37 million units sold in its first year.
Nintendo launched the console in March to lackluster sales and reviews. When sales dried up, the gaming company was forced to drop the price from $250 to $170.
The company, in
its press release
, says the 3DS has sold 1.65 million units in the U.S., alone, not mentioning overseas sales.
Nintendo should see very strong sales this holiday, thanks to the release of games like Super Mario 3D Land and
Mario Kart
7.