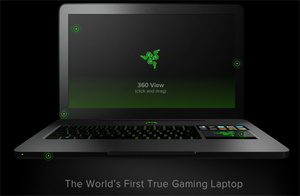 Razer
, the company behind the upcoming 17-inch
Blade
gaming laptop has said today that two prototypes have been stolen from their R&D lab in California.
The company says they are working with authorities and is urging fans not to purchase the laptops online, or via classified ads.
What makes the Blade a "gaming laptop" is the fact that it has customizable keys that require custom software from developers.
Additionally, the laptop has an LCD panel next to the keys that serves as either a multi-touch controller or to show in-game stats like lives, ammo, etc.
The Razer Blade has a 17-inch display, an
Intel
Core i7 at 3.5GHz, 8GB DDR3 memory and a GeForce GT555m with 2GB GDDR5. The laptop will sell for $2800.