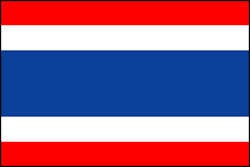 Insults allegedly aimed at Thai King.
In Thailand, you will face harsh penalties if you insult or make threats toward King
Bhumibol Adulyadej
, regardless of how you do so. For defendant
Ampon Tangnoppakul
, a 61-year old retired truck driver, the law has become all too real.
He has been sentenced to 20 years in prison for allegedly sending text messages that the court deemed insulting to the King. Specifically, he was given five years per message, according to lawyer Poonsuk Poonsukcharoen.
"He insists that he does not know how to send text messages,"
Ms. Poonsuk said
.
"He insists that he loves His Majesty the King."
The contents of the messages were not revealed in the court, but the judge said they defamed, insulted and threatened the King and his wife.
The Thai government has set up a
"war room"
which has a goal of censoring websites that carry materials deemed insulting to the royal family.