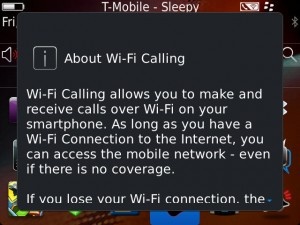 A newly leaked ROM for the BlackBerry Bold 9900 shows off a new unexpected feature, Wi-Fi Hotspot.
The latest build, which is for BlackBerry OS 7.0.1.74 will likely be sent to devices in the next month, but you can download it at the end of the article if you have the latest BlackBerry and want to tinker.
Additionally,
the ROM brings Wi-Fi Calling
(if you have a T-Mobile device) which allows phone calls to be made over the wireless instead of cell network.
Other carriers have refused to add the ability to call with UMA (Wi-Fi Calling) but T-Mobile allows you to do so wherever there is connection. The minutes go against your minute plan, however.
Finally, the ROM may add BlackBerry Tag, the
NFC
tap-to-share solution RIM just announced.
Download
here
.