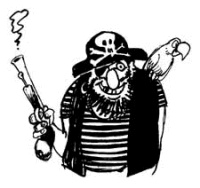 Two US legislators,
Senator Ron Wyden
and
Representative Darrell Issa
, have fashioned an alternative to
SOPA
and
PIPA
, the draconian
anti-piracy
bills being pushed through the two houses. Their proposal is called the
Online Protection and Enforcement of Digital Trade Act
, or
OPEN
for short.
Rather than taking the draft of their bill straight to Congress, the two men have decided to offer it up for online discussion first. You can find the full text of the first draft below or on a
new website
dedicated to the discussion.
While their proposal does address most of the worst aspects of SOPA and PIPA, that mostly serves to highlight how bad the least troubling parts of those bills are. Here are some of the highlights.
The Good
The straight censorship requirements of SOPA and PIPA are gone. There's nothing about DNS blocking or purging a website from search engine results.
There is no right of private action. Under SOPA, a private company would be able to force advertisers to stop paying an accused website operator without ever going to court. Under OPEN, only the International Trade Commission (ITC) would be empowered to order that.
The term 'dedicated to infringement' is narrowly defined as having "only limited purpose or use other than engaging in infringing activity and whose owner or operator primarily uses the site to willfully engage in infringing activity." Likewise, infringing activity is specifically defined as violations of the existing copyright and trademark provisions of federal law.
US based companies may not be targeted.
The Bad
It attempts to strong arm people and companies outside the US by offering immunity to legal action but only if they agree to be bound by US copyright and trademark law. If you are an American this may seem innocuous, but imagine how you would see things if another country tried to force American companies to comply with their laws.

In fact we know how Senator Wyden and Representative Issa would feel. Last year they sponsored bills (in the Senate and House respectively) to prevent US courts from respecting libel judgements which aren't compatible with US law. We know how their fellow legislators and President Obama feel as well. The bills passed quickly and were signed into law.

This sort of thinking is exactly what prompted Eugene Kaspersky, a Russian software developer and entrepeneur, to quit the (primarily American) Business Software Alliance last week. Trying to force laws onto the people of another country without their consent is a strikingly oppressive move for any government.
While there is at least some due process, it does not offer the full protection of standard criminal, or even civil, court because the ITC is an administrative court. This gives Congress significant latitude to set the rules for due process as they see fit.
It is more harmful to ad networks than helpful for Hollywood. Since websites would not be blocked under OPEN, the only challenge a website has to overcome is replacing their ad provider. While it's true Google is the number one ad provider in the world, there's nothing magical about being in the US that makes that inevitable.

If Google can't serve a website operator's needs, they will not just cave in to US demands. What they will do is find an alternative ad partner. Ultimately the question is not whether such a website can make money from ads. It's whether a US company will benefit from it.
OPEN is well intended, but what it really ends up showing us is that once you take out the completely irreedemable parts of SOPA and PIPA, what you are left with is wishful thinking that doesn't match up to reality.
Simply put, you can't control the Internet in any meaningful way without starting over and building something that doesn't resemble the Internet in most ways. No country, no matter how economically powerful, can successfully dictate laws on this scale to the rest of the world.
There is no service from the US so unique it cannot be replicated somewhere else. As long as that's the case, no law of this type will produce any serious results. Or if it does, they will be undesirable results for US companies.