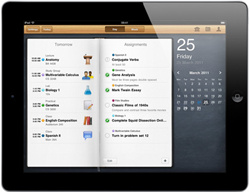 According to the latest IDC figures,
Apple
continues to lose tablet market share, as the industry becomes more and more competitive.
Apple still has, by far, the strongest selling tablet, with the iPad outselling the next tablet by an 11:1 margin, but a large amount of new
Android
releases are starting to chip away at the share. Overall, tablet shipments rose 265 percent year-over-year, to 18.1 million units.
Analysts had expected 19.2 million units, but the miss is likely to be made up in the next quarter, the holiday quarter.
iPad sales came in at 11.1 million for the Q3, good for 61.5 percent market share, down a few percentage points from the quarter before.
Samsung
came in second with 5.6 market share after selling 950,000 units during the quarter.
HP
, thanks to its firesale, controls third at 5 percent after selling 900,000 TouchPads.
IDC
has changed its methods
to now include the Nook Color, Nook Tablet and Kindle Fire, which are intended as e-readers but have LCD screens and Internet access. The Nook Color saw 805,458 units sold, while the figures for the latter two devices will need to wait until the end of the Q4.
Amazon's Kindle Fire is expected to jump very quickly into second place, with an anticipated 5 million units sold in the Q4.