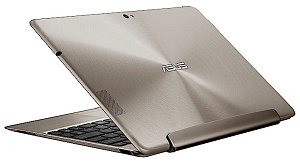 Hasbro has sued
Asus
today, over the Transformer Prime name used in the company's new flagship tablet.
The toy company is seeking an injunction on the tablet due to brand copyright violations.
Transformers
Prime is an animated TV series that launched in 2010, a new generation of the popular TV series from the 80s.
In its statement, Hasbro says:
Hasbro continues to aggressively protect its brands and products and the specific actions we are taking today against Asus underscores yet again Hasbro's willingness to pursue companies who misappropriate our intellectual property for their own financial gain.
As anyone who has watched the show or movies know, a Transformer turns from a robot into a vehicle like a truck or fighter jet to travel quicker. The Asus tablet "transforms" from a tablet into a laptop with a keyboard dock.
Hasbro
likely thinks
that Asus is banking on the recent success of the Transformers movies, and they may have a case. If Hasbro wins, Asus will most likely just have to change the name of tablet.