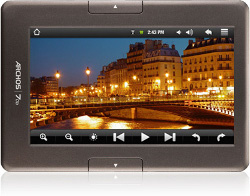 The selection of budget 7" Android tablets will be expanding again soon when the $199 Archos 70b is released.
Like Amazon with the Kindle Fire and Barnes & Noble with the Nook Tablet, Archos made some compromises to keep the price down on the 70b. Most notably, it only features a single core processor, 512MB of RAM, and 8GB of internal storage.

However, the processor is a 1.2GHz model, storage can be upgraded via a micro SD slot, and it runs Android 3.2 (Honeycomb). This version of Android was the first to be optimized for tablets, making it superior to Android 2.3, featured on the other two tablets.

It also has some other advantages, including built-in access to the Android Market, something Amazon and Barnes & Noble go to great lengths to avoid. It also includes Archos' own media player app - something the company is known for - and a HDMI port to connect it to a HDTV.

Unfortunately for Archos, this tablet will be released some time after the Christmas shopping season ends. Between that and Archos' relatively low name recognition in the US, it's unlikely this tablet will see the same kind of sales numbers as the Kindle Fire or Nook Tablet.



In a way, with its single core processor, it probably shouldn't be compared to either of those anyway. A more fitting comparison would be to Barnes & Noble's Nook Color. If you were considering that tablet, but weren't planning to buy before Christmas, the Archos 70b might be a good alternative.