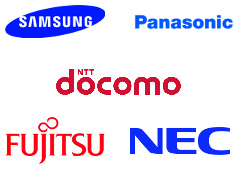 Japan's largest mobile carrier,
NTT DoCoMo
, has announced a partnership with a group of leading
Japanese
and
Korean
electronics manufacturers to develop and manufacture
LTE
components.
Their partners in the joint venture will include
Fujitsu Semiconductor
,
NEC Corporation
,
Panasonic Mobile Communications
, and
Samsung Electronics
.
The details are still be working out, but NTT DoCoMo plans to invest nearly $6 million (450 million Japanese Yen) to establish the new company which will be called Communication Platform Planning Co. They will also be supplying the CEO, Mitsunobu Komori, who is currently DoCoMo's CTO (Chief Technical Officer) and an executive vice president.
The new company is expected to be formally established in January. This move appears to be a shot across the bow of
Qualcomm
, who currently leads the mobile chip chip industry worldwide.
DoCoMo, Fujitsu, NEC, and Panasonic had already established a partnership to develop mobile hardware. Last year they announced their first chip, developed using technology from another Japanese company called
Tensilica
.
The addition of Samsung to coalition would seem to complete the puzzle. Over the last few years Samsung has made great strides in mobile processor manufacturing. Among their other achievements, they
build Apple processors
for the
iPhone
and
iPad
.
One huge advantage Samsung brings to the table is their manufacturing experience with smaller
process sizes
. A smaller process, which equates to smaller transistors and logic gates built from those transistors, is critical to increasing speed while simultaneously reducing power consumption and residual heat.
Samsung currently has the technology to produce chips using a 28nm (nanometer) process, which is already reportedly used for
Apple's new A6
processor. This is even smaller than the 32nm process used for Intel's current flagship desktop (Sandy Bridge) processors or their
new Medfield series
Atom processors.
Intel
is focusing significant efforts on expanding their presence in the mobile world. Prior to Medfield, their first true SoC (System on a Chip), Intel's Atom processors have primarily been used for netbooks and other low end PCs. In fact, one report suggests
Apple considered
basing the iPad on an
Atom processor
, but found it inadequate for their purposes. Next year Intel is hoping to get all the way down to 22nm.
Qualcomm, of course, isn't sitting by idly either. They also have plans to begin
manufacturing 28nm chips
. Their latest
Snapdragon
processors built with this technology are expected to be available as early as next February.
Another company who will be paying close attention to this development is
TI
(
Texas Instruments
).TI's
OMAP
processors power a variety of smartphones and tablets, including Motorola's Droid 3 and Droid RAZR, as well as the wildly successful
Kindle Fire
and
Nook Tablet
. TI was already hit hard
earlier this year
by a drop in sales by Nokia, one of their biggest customers.
TI processors have also been used extensively in flagship devices
from Samsung
, Panasonic, and Fujitsu, many of which are made specifically for sale to DoCoMo customers. This new partnership has the potential for taking a serious bite out of TI's bottom line unless they can establish some strategic partnerships of their own.