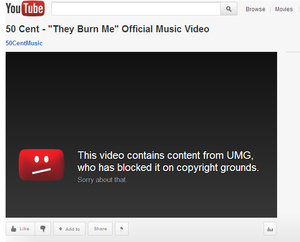 It appears Universal Music Group (UMG) does not discriminate when it takes down videos, even nonsensically taking down music videos from its own artist.
Following the release of his official video for "They Burn Me," UMG took down the track from its artist 50 Cent, leaving the usual "this is blocked due to copyright" message in its place.
UMG and 50 Cent have a long history of disagreement. Earlier this year, 50 Cent (real name Curtis Jackson) accused Interscope (division of UMG) of leaking his first single and the artwork for his second single. Jackson had not wanted to release any of his tracks until later in the year. As retaliation, Jackson threatened to leak one of Dr. Dre's latest tracks, off the decade-in-the-making "Detox" album, but in the end he did not.
Furthermore, UMG publicly
declared
50 Cent's personal website "a pirate site."
It is unclear why UMG took down
its own artist's video
, especially from such a prominent rapper.