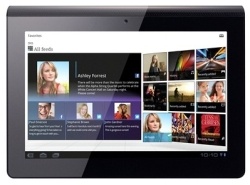 Sony
has slashed the price on their new S tablet, just months after release.
As of today, the 16GB model will cost $400 and the 32GB will cost you $500, a $100 across the board cut. The price cut follows a holiday-inspired $50 discount that just expired.
Additionally, Sony
says
:
"On top of these savings, Sony is also currently offering (for a limited time) a store credit and five free Video Unlimited movie rentals, five free PlayStation Store game downloads and 180 days of free Music Unlimited service with the purchase of a Tablet."
The Tablet S has a 9.4-inch screen, a "magazine" form factor, a Tegra 2 dual core processor, dual cameras and Honeycomb 3.x. If you purchase the Wi-Fi-only version you get Honeycomb 3.1 (with Sony UI
overlay
) and if you buy the more expensive Wi-Fi/3G version you get 3.2 (with similar UI overlay). The tablet comes with either 16GB or 32GB of internal storage, DLNA compatibility, an IR port (to use as universal remote), an
SD
card slot, Sony's Crackle and eReader apps and Sony's "QuickView" tech for faster browsing.
Finally, the tablet is the first to be Playstation Certified which means it can play PSX games from the PS Store.
Recently, Sony
confirmed
that its Tablet S and Tablet P devices will receive
Android 4.0 Ice Cream Sandwich
in the future.