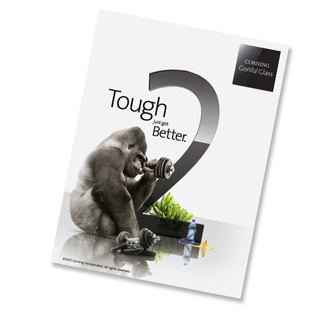 Corning has announced that it will use the
CES
event next week to unveil its Gorilla Glass 2 displays.
The glass, which is damage-resistant and used in smartphones and other devices, will be updated to work with even thinner displays and larger devices like 70-inch TVs.

"Corning Gorilla Glass has been a tremendous success for Corning, enjoying excellent market acceptance across mobile device industries. Handset and tablet device manufacturers are clearly driving toward higher functionality from thinner designs. Corning's latest innovation in Gorilla Glass technology is very well positioned to meet these challenges and enable broader touch technology penetration," added James R. Steiner, senior vice president and general manager, Corning Specialty Materials.

More details will be revealed on January 9th.

Steiner continues: "As we did last year, we'll provide consumers and customers visiting the Corning booth the opportunity to test first-hand the outstanding damage resistance and flexibility of this industry-leading, ultra-thin, and tough specialty glass."

Gorilla Glass is featured on 575 different products and available on over 500 million units.