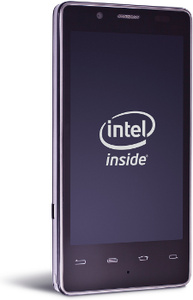 At
CES
today,
Intel
announced two deals designed to put their latest
Atom
processors on the mobile device map.
New partnerships, with
Motorola
and
Lenovo
, are the culmination of some
major changes
in the chipmaker's Atom platform, along with development work to ensure
Android
compatibility. The new
Z2460
Atom processor is their first true
SoC
(System on a Chip) mobile processor.
Starting in the second half of this year, the new processor will be appearing in Android handsets from Motorola, who signed a two year deal to produce Atom-based
smartphones
and
tablets
. Before that, in Q2, the Z2460 will be used to power a Lenovo Android phone destined for the Chinese market.
In the past, Atom processors had been generally avoided for mobile devices because they used
too much power
. That was largely due to their failure to build everything into the same chip. In addition to moving to an SoC design, the new Atom processors also address the power efficiency issue by using a
32nm process
.
According to
figures shared
with Anandtech, power consumption appears competitive with the top ARM chips used in current generation smartphones.

One notable difference between the new Atom processors and the
ARM
processors found in high end smartphones and tablets is the use of hyperthreading in place of multiple processor cores. It's not clear how much difference this makes for Android devices right now, but it could make a big difference in upcoming tablets running
Windows 8
.
While this new Atom platform seems like a huge improvement from Intel, next generation ARM
Cortex-15
processors from companies like
Samsung
,
nVidia
, and
TI
(Texas Instruments) are expected to hit the market over the next couple of years. Intel will have to continue improving the Atom line if they want to be relevant in the mobile world.