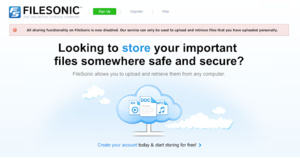 Following this week's mega news (no pun intended) of Megaupload being shut down by the DOJ, other cyberlockers are starting to fall, starting with popular service Filesonic.
The service has disabled the ability to share files, making the, erm, file-sharing service completely useless except for cloud storage of your own files.
Additionally, many of the site's biggest uploaders have been banned and had their files deleted, as it seems Filesonic is quickly trying to remove evidence of piracy.
Although unconfirmed, Fileserve is said to be doing the same to its uploaders, as cyberlockers run and hide in the wake of the Megaupload takedown.
One, Rapidshare, says they are not worried as "file hosting itself is a legitimate business." Rapidshare has been around for many years now, and is considered a grandfather of file sharing.