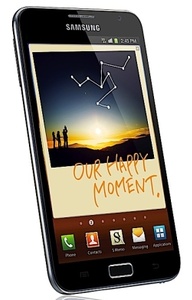 First announced at
CES
, AT&T has finally revealed the date and pricing of the mini-tablet/phone
Samsung Galaxy Note
.
Pre-orders on the device begin on February 5th for release on February 17th. If you do not want to pre-order or want to pick it up in a store, launch is February 19th.
The device will sell for $300 with 2-year contract and will require a data package.
Galaxy Note
devices have a massive 5.3-inch
HD
Super AMOLED screen (1280×800
resolution
), run on dual-core 1.5 GHz Snapdragon S3 processors, have 1
GB
RAM
,
LTE
support and Samsung's own input tool called S-Pen.
Says Jeff Bradley, senior vice president, Devices, AT&T Mobility and Consumer Markets:
"The Galaxy Note brings a new level of efficiency to busy customers who would normally rely on multiple devices. This new breed of smartphone helps consumers accomplish more with a single device than ever before. The unique all-in-one experience can simplify daily life while tapping into AT&T's 4G LTE network to let customers work even faster."