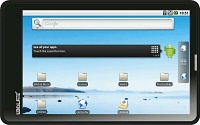 India's $35 subsidized Aakash tablet has run into issues.
The tablet has a 7-inch resistive display, runs on
Android
2.2, has a 366 MHz processor, 256MB
RAM
, 2GB internal storage, Wi-Fi, USB slots,
SD
slot and a tiny 2100 mAh battery and sells for just $35 because the Indian government subsidizes the price of the tablet.
Aakash was created to help "students in higher education and to give them the technological skills" that are needed for 2012. Additionally, only 10 percent of the Indian population is connected to the Internet.
In its first two weeks of availability, the building company, DataWind, took 1.4 million orders, but has so far only shipped 10,000, angering the Indian Human Resource Development Ministry, who is now re-opening the contract to other bidders as partners to built the tablet. The British manufacturer will complete the pilot program, with 100,000 tablets, but will likely lose out on the second part of the contract, to ship 1 million units.
Users have also complained of overall sluggishness, including lag, short battery life and an almost unusable resistive touchscreen.
DataWind
says
there are other factors in play, including the ministry wanting the device to meet U.S. military durability requirements, without a price increase:
"Among other things that requires the device to take 4 inches an hour of sustained rain. We objected to it and the project has been on hold since then, we are working with the ministry to get that resolved."