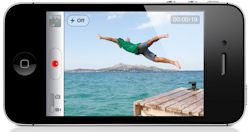 Lawsuit makes disturbing allegations against store workers.
It was filed by
Lisa Blazek
against U.S. Cellular, after she worked in a store in the city of Spencer, Iowa from 2007-2010. In it, she alleges that employees at the store would immediately search through customers phones for naked or sexually explicit images.
"If photos of that nature were found, they would show them throughout the store,"
the complaint reads
.
"Many times I would be called over to look at something only to find out that it was a sexual picture on a customer's phone."
She said the pictures ranged from simple nude photos to blatant sexually explicit material.
Her claims are denied by lawyers who are representing the company and four employees named in the lawsuit. It was filed last year.
Blazek claims her experience in the store was that of non-stop harassment, and that it only got worse once she complained. She claims her work hours were changed so she wouldn't be on shift with the worst offender, but that no disciplinary action was taken.
After she brought it to the attention of higher ups, a company investigator accused her of having a relationship with one of the alleged harassers and attempted to coerce her into abandoning her complaint altogether. Eventually, she quit her job, and is now seeking compensation for lost pay, health benefits, emotional distress and additional punitive damages.
The case comes as security experts warn about the amount of private information that smartphone users comfortably store on the device. Far from being compromised in a case of theft, there has also been cases of data being sent by malicious applications to remote servers. Several cases of photos being leaked from celebrity smartphones have also emerged in the past couple of years.