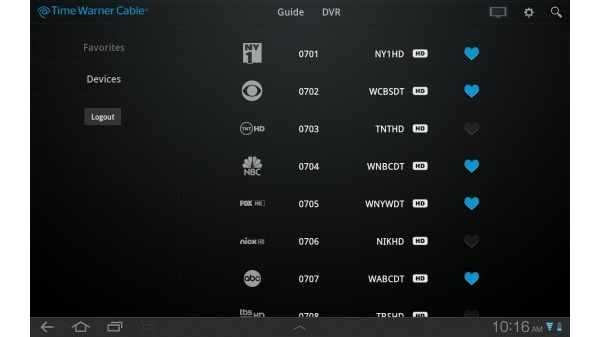 Last year, Time Warner Cable released their TWC TV app for the iPad,
Android
, iPhone and desktop giving subscribers a chance to stream some live cable channels on their devices as long as they were connected to their home Wi-Fi.
As of today, in New York City customers will now have 26 local channels.
The company will be expanding the local channel offering to "a few more markets" by the end of the year, as well.
Full lineup:
WCBS HDTV (CBS)
WNBC HDTV (NBC)
NBC NY Nonstop
WNYW HD (Fox)
WABC HDTV (ABC)
Live Well HD
WABC News Now
WWOR HD (My9)
WPIX-HD (PIX11)
WPXN HD (ION)
WXTV HD (Univision)
WFUT HD (Telefutura)
WNJU HD (Telemundo)
WFME
WLIW (PBS)
World
WLNY (TV 10/55)
WMBC
WNJN HD (or WNJB or NJN1) - PBS
WNYE (NYC TV Life)
WRNN
WNET (Thirteen HD)
V-ME
Create
Kids13
Rise (Al Jazeera)