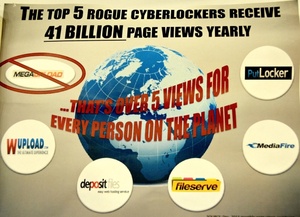 Just months after the shut down of the world's top cyberlocker Megaupload, Paramount Picture's has sent the
MPAA
and U.S. DOJ a list of 5 "rogue" file-sharing sites that should be shut down next.
The lucky handful are Fileserve, MediaFire, Wupload, Putlocker and Depositfiles.
Sites like Fileserve and Filesonic (which did not make the list) almost immediately shut down their affiliate programs and sharing capabilities after the raid on Megaupload and other lockers cut off access to U.S. visitors.
The MPAA defines a rogue cyberlocker as such:
"Rogue cyberlockers aren't just distribution hubs for stolen movies and TV shows - both the users who upload content and the operators who run the sites can earn money from doing so. As Internet video traffic grows, the threat from rogue cyberlockers that profit from stolen content is rising rapidly."
Paramount
says
the 5 cyberlockers in question receive a massive 41 billion page views every year and are "criminal" in nature. Each of the sites have been referred to the Department of Justice but it is unlikely that any action can be taken until the government can get through its case against Megaupload.