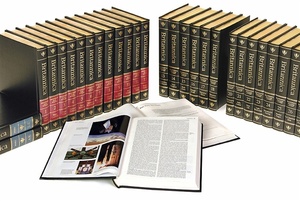 Just a couple of weeks after Encyclopaedia Britannica decided to discontinue its print editions, the company was overwhelmed by orders of the final edition of the set.
The company says it is down to just 800 copies left, despite the set's $1395 price tag.
Says a company spokesman:
"The size and duration of the spike has been a little bit stronger than we expected. The first couple of days, our phone lines were overloaded. The people who take the orders were here one night past 10 o'clock... the senior executive in that area was answering phones."
Over 1000 orders have been placed in the last two weeks, compared to an average of 60.
Original story:
Encyclopedia Britannica has announced it will stop producing its classic multi-volume book sets after 244 years in print.

The company printed a new set every two years but has announced there will be no 2012 edition, leaving 2010 as the last in the series. Into the future, the company will continue to update the encyclopedia digitally and produce education tools.

Says Britannica president Jorge Cauz: "Everyone will want to call this the end of an era, and I understand that. But there's no sad moment for us. I think outsiders are more nostalgic about the books than I am."

While the 32-book sets are what come to mind when the word Britannica is said, Cauz says the printed sets account for just 1 percent of overall revenue. 85 percent of revenue comes from education products including online learning tools and curriculum products

The digital phone and tablet app of Britannica costs $2 per month.