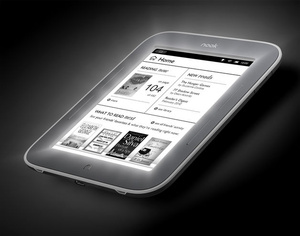 Barnes & Noble has introduced a new version of the Nook e-reader that will have a glow in the dark screen, allowing for night time and dark room reading.
The new version of the Nook Simple Touch, which has an e-ink touchscreen, will incorporate the new light, a feature Amazon's rival Kindle devices do not have.
Says
Chief Executive Officer William Lynch:
"Having to clip on the light at night, there is the consumer cost of the hassle factor. The glow is the biggest revolution in the dedicated single-purpose e-reader market since the launch of the Kindle in 2007."
B&N is the world's largest bookstore chain and the company controls about 30 percent of the ebook market.
The new device will sell for $139, the same price the original Touch model launched at last year. The first-gen device (with no light) now sells for $99.