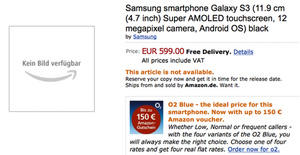 While its launch is not for another week, it appears someone over at Amazon Germany has leaked at least part of the specs for the Galaxy S III device.
If accurate, the device will have a 4.7-inch Super AMOLED display, 16GB of storage, and a massive 12MP rear-facing camera.
The site lists the retail price at ?599, which is almost $800 USD, likely in-line for an unlocked, unsubsidized model.
Past rumors have the phone being powered by
Android
4.x and a
Samsung
Exynos quad-core processor.
View the teaser trailer for the device here:
Samsung subtly calls Apple fans 'sheep'