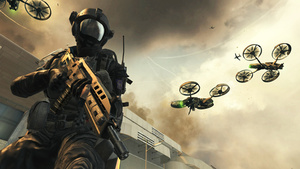 Call of Duty
Black Ops II is beating day-one pre-orders for its predecessors.
In fact, the game had 10 times as many day one orders than the original Black Ops I, which was released in 2010. Furthermore, the game is beating out last year's record shattering Modern Warfare 3 by 30 percent.

The game is set for release on November 13th.

Activision Publishing chief Eric Hirshberg noted earlier in the year that he believes the "next Call of Duty will bring meaningful innovation to the series." The exec did not elaborate further but the series has seen some user criticism recently from those who think the series is a lot of "the same" just with a new name and new maps.

2011's Modern Warfare 3 was an unequivocal success, bringing in over $1 billion in sales in just 16 days.