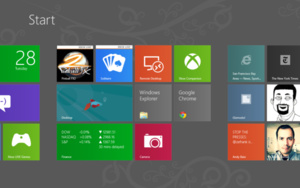 Microsoft
has subtly noted today a fact that might upset some users.
Last month, the company noted that
Windows Media
Center would be an extra-cost option for Windows 8 buyers, and that it will also require Windows 8 Professional.
In their blog post today, the company had this to say:
"Acquiring either the Windows 8 Media Center Pack or the Windows 8 Pro Pack gives you Media Center, including DVD playback (in Media Center, not in Media Player), broadcast TV recording and playback (DBV-T/S, ISDB-S/T, DMBH, and ATSC), and VOB file playback."
If you caught it in there, DVD playback is no longer supported via
Windows Media Player
, even if you pay up for the Media Center.
Windows Media Player
will be included with all versions of Windows 8 but
"for optical discs playback on new Windows 8 devices, we are going to rely on the many quality solutions on the market, which provide great experiences for both DVD and Blu-ray."
The Media Center upgrade is expected to cost $9.99.
As a hint from the AfterDawn staff, here is the link to VLC 2.x for all your media playback needs:
VLC for Windows