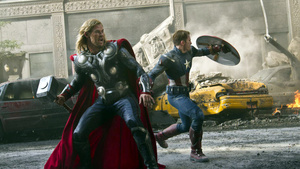 It appears that actually putting together a strong cast and a good story can still lead to strong box office sales.
The Marvel blockbuster "The Avengers" has sailed to a $200 million opening weekend, despite pirated copies being available from the movie's international release a week earlier. The figure is the largest in history, by far, beating out last year's Harry Potter finale by $30 million.
In just one week, the film has brought in an astonishing $650 million internationally. That total is more than individual movies "Thor," "
Iron Man
," and "Captain America" made during their lifetime runs, although each were successful.
Disney, the distributor of the film, says the final figures may even end of being slightly higher:
"There aren't even words, to be honest. I'm running low on double takes. Every time we looked at a number, it just got bigger than what we could have hoped for in the best-case assumption. With this film, this weekend, anything is possible."
The Avengers film stars an all-star cast of superheroes including Iron Man, Hulk, Captain America, Nick
Fury
and Hawkeye.