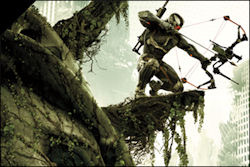 Premium quality
"Enthusiast"
and
"Performance"
class equipment contributes $3.2 billion in growth from 2011.
Jon Peddie Research reports an estimated 54 million Performance and Enthusiast class PC gamers worldwide at present. By 2015, the firm expects this number to swell to 72 billion, driven by new entrants and by "console converts." It predicts that the PC Gaming Hardware market will hit $23.6 billion in 2012, rising to $32 billion by 2015.

The research firm defines Enthusiast and Performance class PC gamers as those who spend over $1,000 on equipment.

"We are witnessing the market morph and grow into different areas. This has always been a strong point of PC gaming; the ability to adapt to different entertainment environments and requirements. The hobbyist aspect of the DIY market is driving billions in component sales and small form factor rigs are being hooked up to HDTVs, essentially being used as 'super consoles," said Ted Pollak, Senior Gaming Analyst at Jon Peddie Research.

Average selling prices for some components could suffer as competition heats up in 2013, but unit shipments will continue to rise, and components like SSD's are counterbalancing and buoying system integrated and DIY ASPs.

In its 33 country analysis of the gamer market, JPR has found very strong demand in the BRIC countries for systems, accessories, and upgrades approaching $4.7 billion in 2012 and growing to $7.7 billion by 2015.