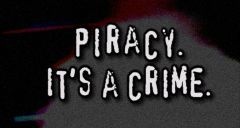 The federal government, with help from the Hollywood studios, has updated the iconic DVD/Blu-ray anti-piracy warnings seen on all new releases.
Instead of just one logo, the new warnings now have three, including one from IPR and one from Homeland Security (seen below).
The original logo has been around since 2004 on all new home releases, and includes text noting that pirates can face jail time and a large fine if they ever decide to rip a movie, make a backup, or share the files illegally.
In the new version, there is a Homeland Security Investigations "special agent" badge reflecting the power the group has had since 2008 in Web matters and there is a second page for the National Intellectual Property Center.
Both new warnings here (via
Wired
):