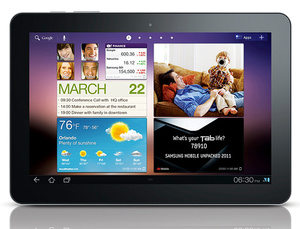 Apple looks for another import ban.
The iPad-maker benefited on Tuesday then the U.S. Court of Appeals for the Federal Circuit found that a judge in a California district court was in error when he ruled that
Apple
failed to show that it had a case. The appeals court ruled that the case be sent back to the district court for review.
The decision involves a single patent which Apple claims
Samsung
violated in the design of the
Samsung Galaxy Tab 10.1
.
Apple has now
filed a motion for a new injunction
against the tablet, hoping to get it pulled from shelves in U.S. stores. It already forced Samsung to make some design changes to the Galaxy Tab 10.1 in Germany, where it sells a "10.1N" revision of the device.
Apple has had some success against the makers of Android smartphones and tablets. It has accused Samsung in particular of
"slavishly cloning"
the iPhone and iPad in its Galaxy line of smartphones and tablet PCs.