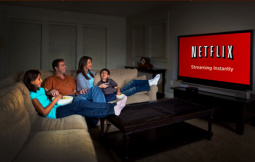 According to new data from IHS iSuppli, Netflix has surpassed
iTunes
as the largest U.S. online movie service, when ranked by revenue.
In 2010, Netflix controlled just 1 percent share of revenue, while
Apple
controlled 60.8 percent. By 2011, however, that number had changed dramatically, with Apple falling to 32.3 percent share to Netflix's 44 percent.

"2011 marked a sea change in the online movies business that saw the balance of consumer spending shift from a DVD-like transactional model to more TV-like subscription approach,"
adds Dan Cryan, research director for digital media at IHS.
"The online movie business more than doubled in 2011 to reach $992 million and it is expected to double this year as well."
Netflix's revenue share was directly affected by the same move that alienated customers. Over the summer, the company split its
DVD
and
streaming
services, charging $7.99 for each instead of the $9.99 for both model that it had used for over two years.